Guest House Gifuhashima COCONE
"Great access to tourist destinations!"
Guesthouse Gifu Hashima Cocone is located 10 minutes from Nagoya Station by Shinkansen bullet train and 60 minutes from Chubu Centrair International Airport by train. It meets a wide range of needs, from backpackers to families and groups. In the vicinity of Gifu Hashima, there are many historic sightseeing spots related to historical drama series, as well as areas where you can refresh and get close to nature, such as Mt. Kinka, where Gifu Castle is situated, and Kiso Sansen Park. Stay with us to spend a memorable time in Gifu Hashima.
Guest Room
Dormitory-type rooms for easy and convenient lodging and private rooms for a relaxing stay.
Choose one that best suits your travel needs.
Dormitory Room
Private Room
Dormitory
Reasonable and casual, easy stay in the dormitory room
Dormitory Room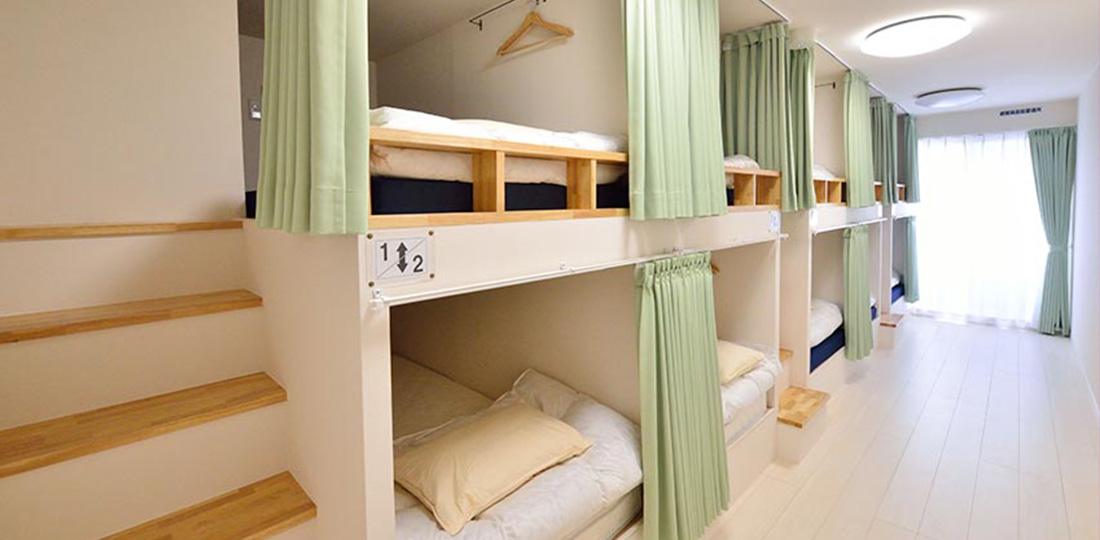 Dormitory bed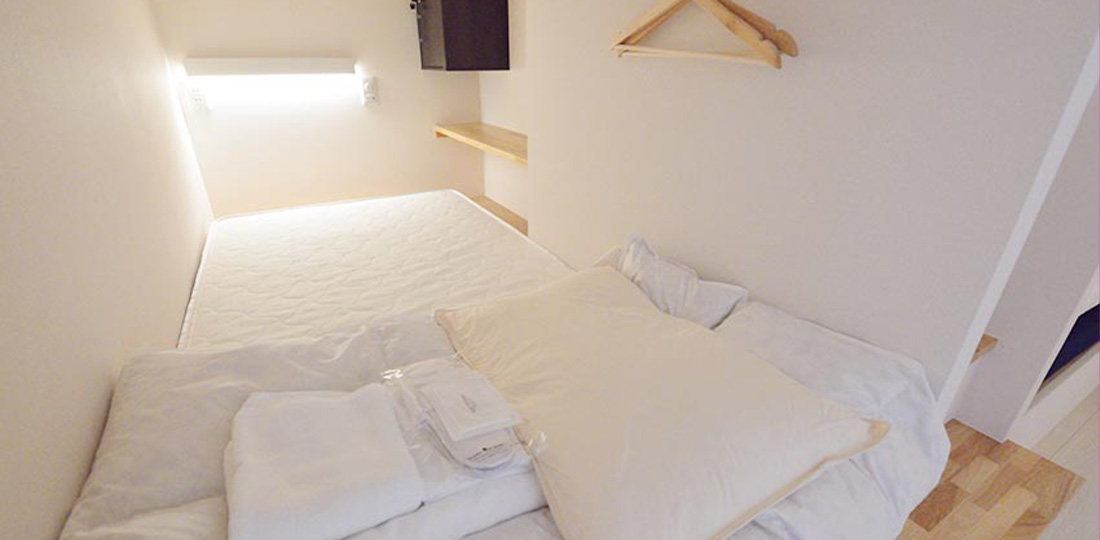 Dormitory Room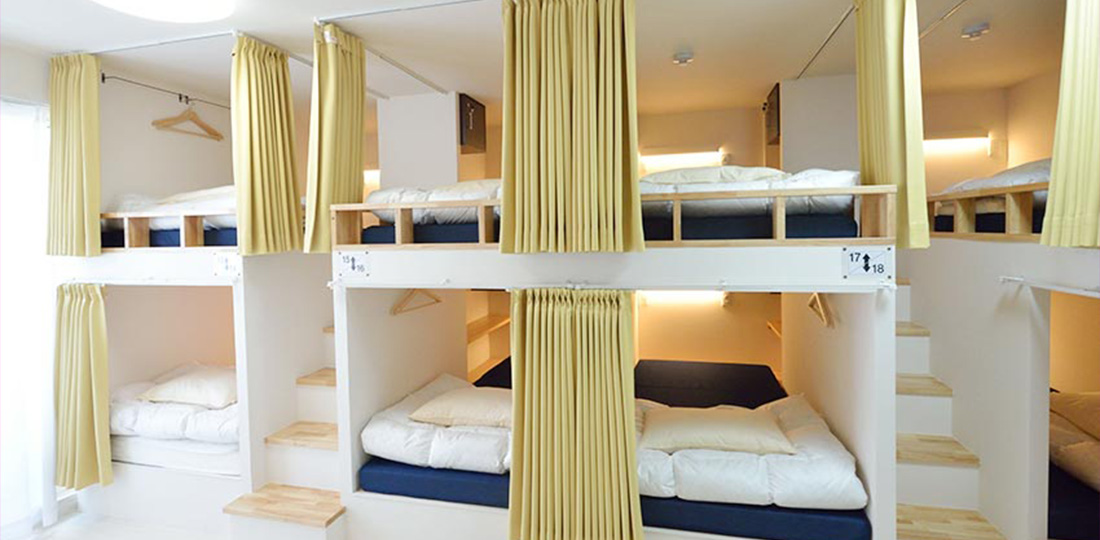 Bathroom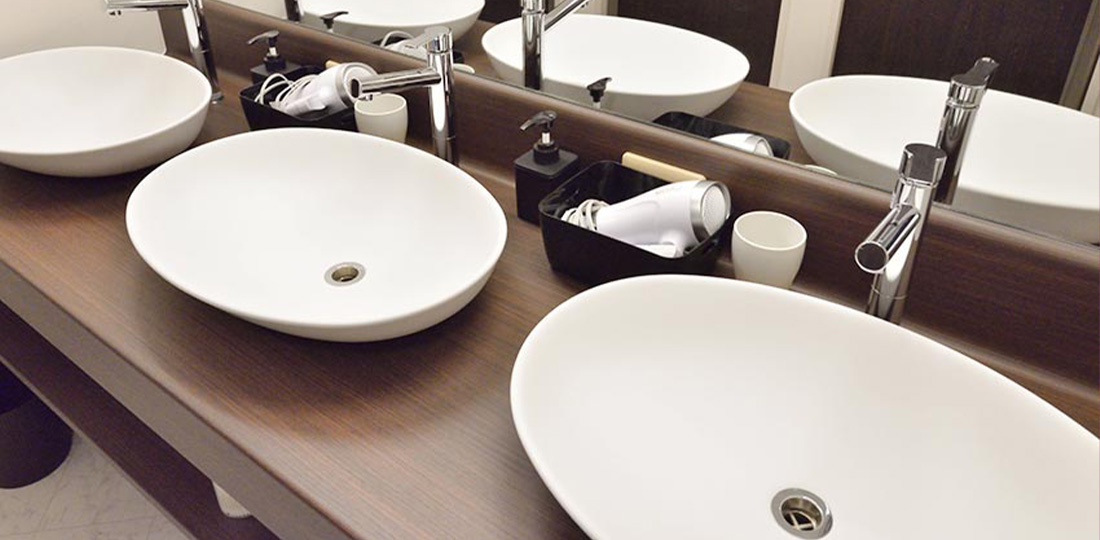 Shower room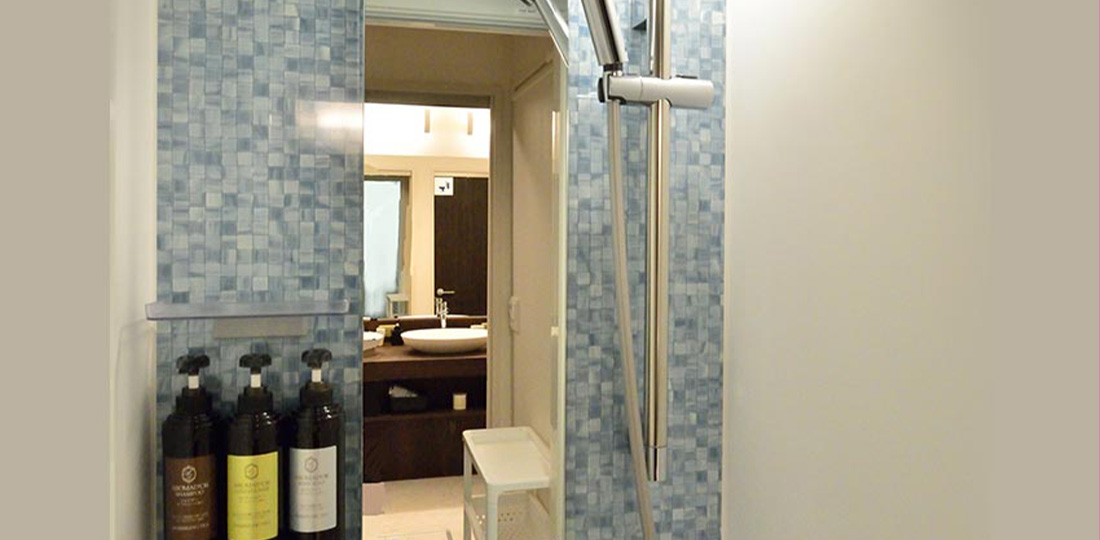 A safe and secure semi-capsule-type room with free use of shared spaces.
All 20 beds are available for private use. Women-only units are also available! Kitchen, shower, and toilet included!
Capacity
Co-ed dormitory (10 beds) / Women-only dormitory (10 beds)
Bed type
A bunk bed per person / space size: approximately 1 x 2.2 m
A safety box, air circulator, lighting, power (USB) installed by the bed
Private Room
Private room type for up to 5 people
301 (Western Style Room)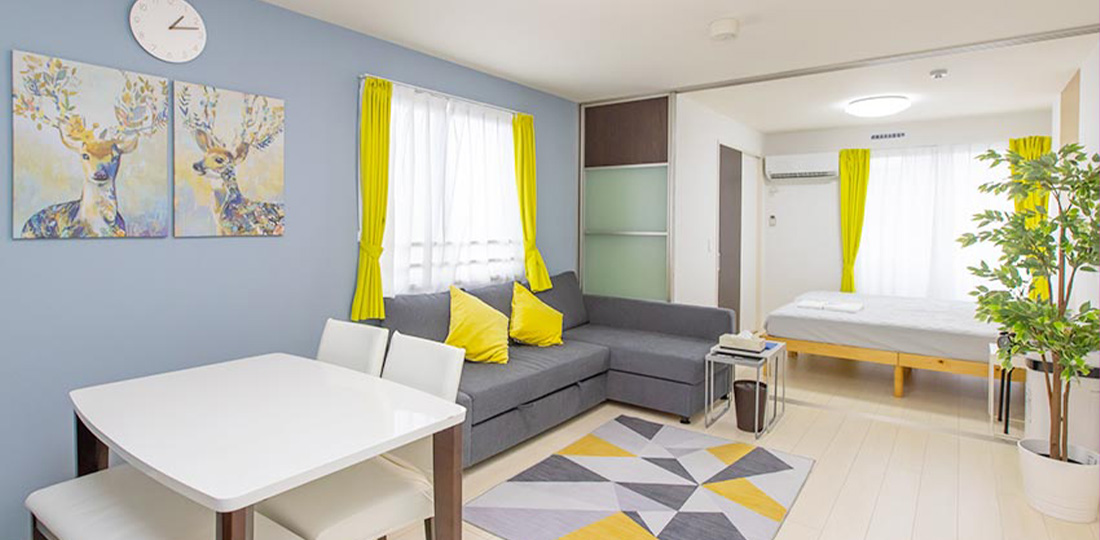 All rooms are equipped with a 100-inch projector. Streaming service can be viewed.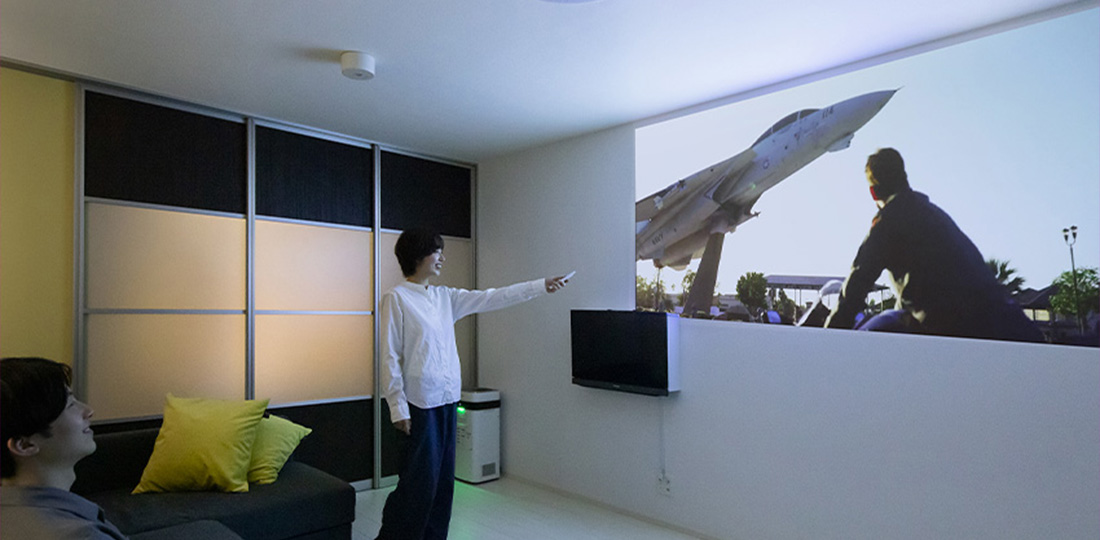 302 (Japanese & Western Style Room)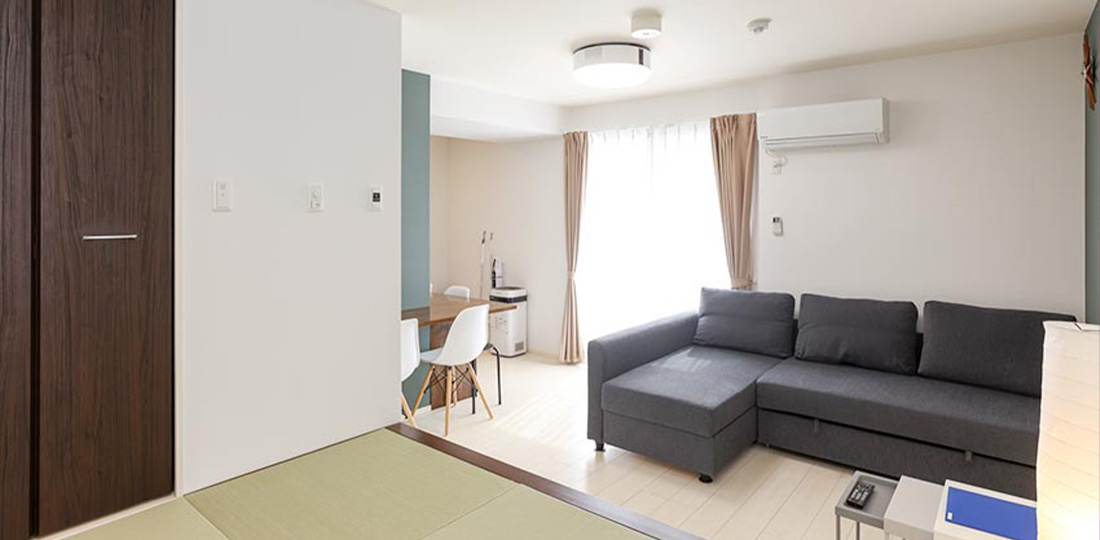 303 (Japanese & Western Style Room)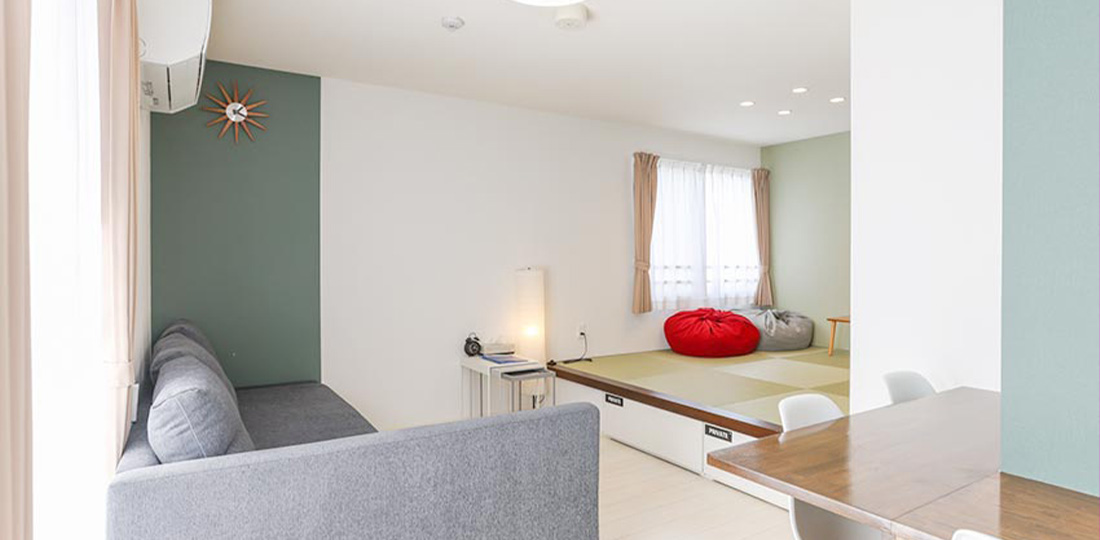 Kitchen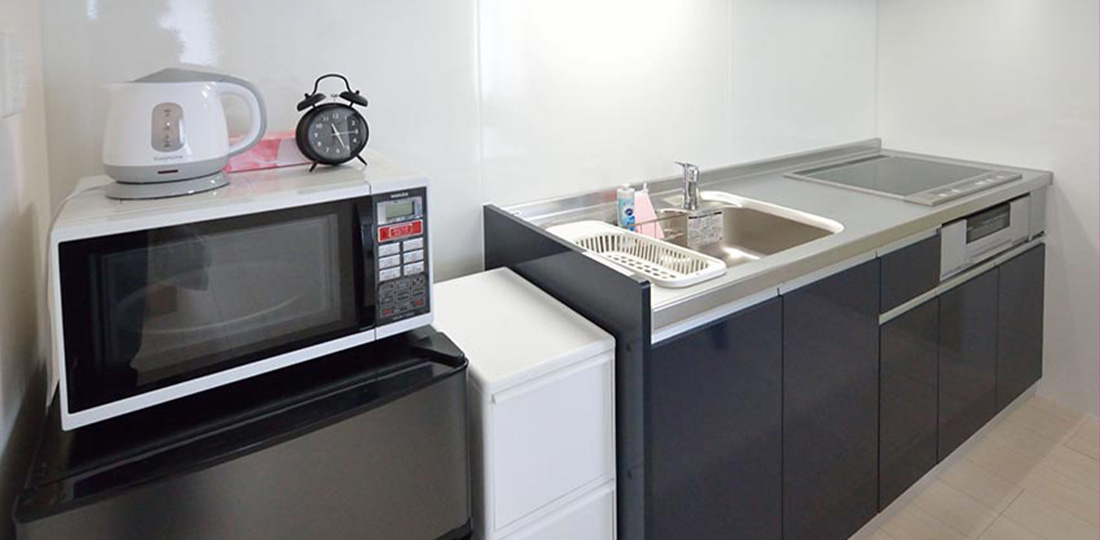 Bathrooms and toilets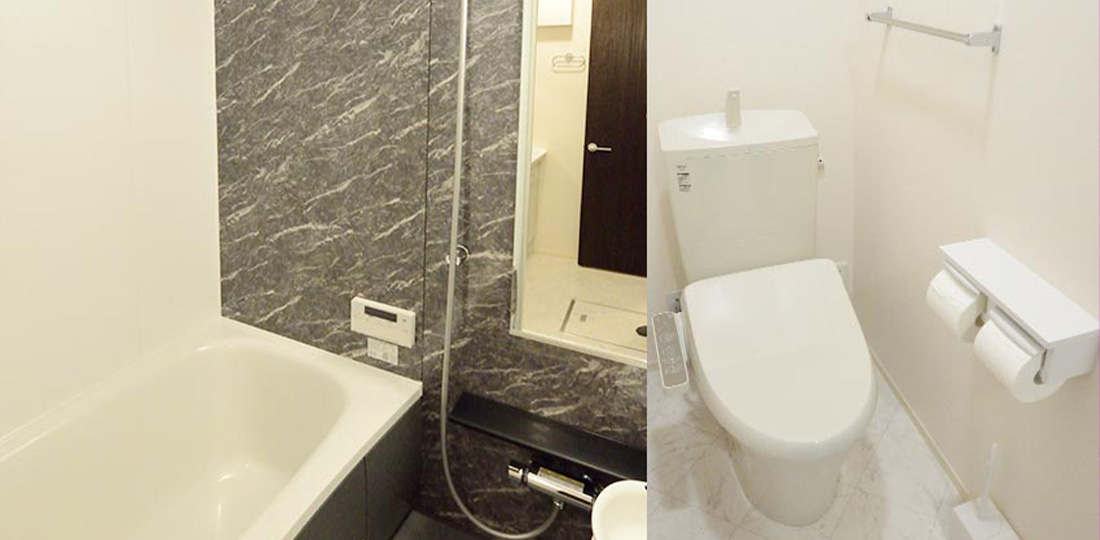 A spacious 40 square meters where you can keep your privacy.
Conveniently equipped with private kitchen, bath and toilet.
| | |
| --- | --- |
| Capacity | 4-5 persons per room (3 rooms in total) |
| Room Type | There are three private rooms: one Western-style room and two Japanese/Western-style rooms. The Japanese / Western style room has a small tatami mat room, where you can sleep on a futon. |
| Room size | 40㎡ |
Room facility / Amenities
Room facility

・100-inch projector (with streaming service available)
・LCD screen TV (with streaming service available)
・Free Wi-Fi
・Coffee maker (Lounge)
・Electric kettle (free of charge)
・Refrigerator
・Microwave oven
・Cooking appliances (free of charge)
・Cookware and utencils / tableware
・Hairdryer
・Clothes Iron (free of charge)
・Toilet with bidet
・Safety box (dormitory)
・Air purifier
・Air circulator
・Air conditioner

Amenities

・Shampoo
・Conditioner
・Body soap
・Bath salts (private room)
・Toothbrush set
・Face towel / Bath towel
・Slipper
・Japanese tea / tea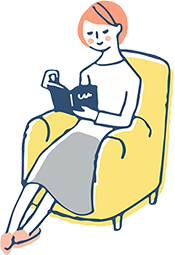 Facilities
The guesthouse offers a wide range of amenities and services to make your stay a pleasant experience.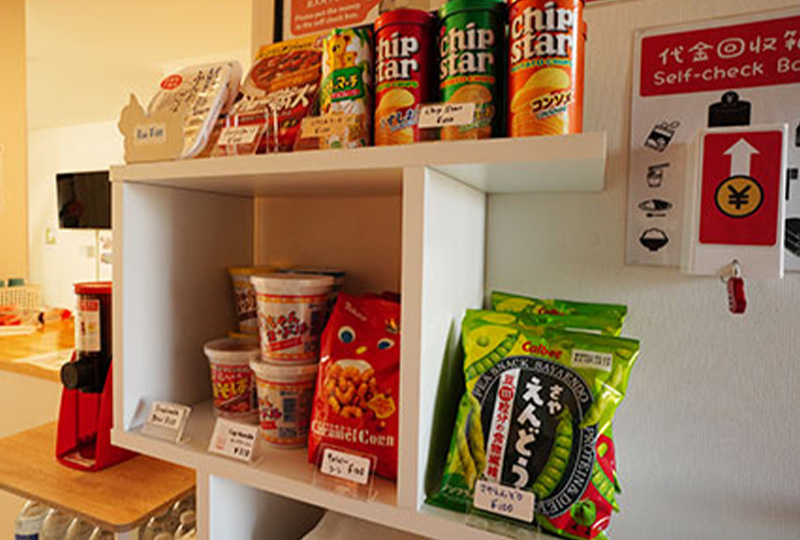 COCONE STORE
Bath amenities, such as rental towels and toothbrush, and some snacks are available for purchase.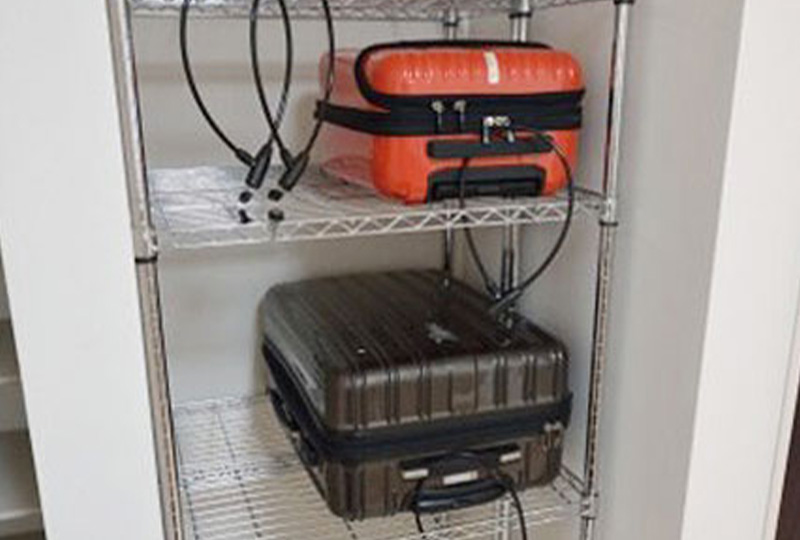 Luggage space
A large dedicated luggage storage area is available in front of the front desk.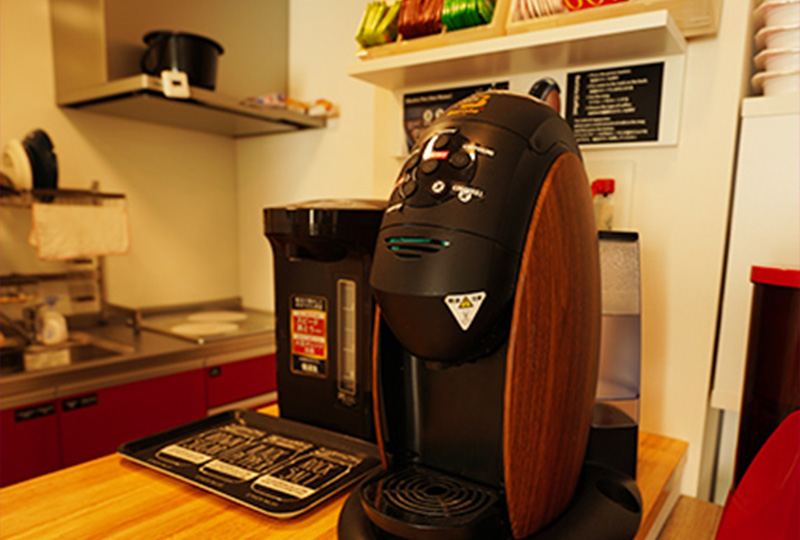 Free Beverage Station
Coffee, tea, and Japanese tea are complimentary. Enjoy some good coffee in the Lounge freshly brewed in the coffee machine.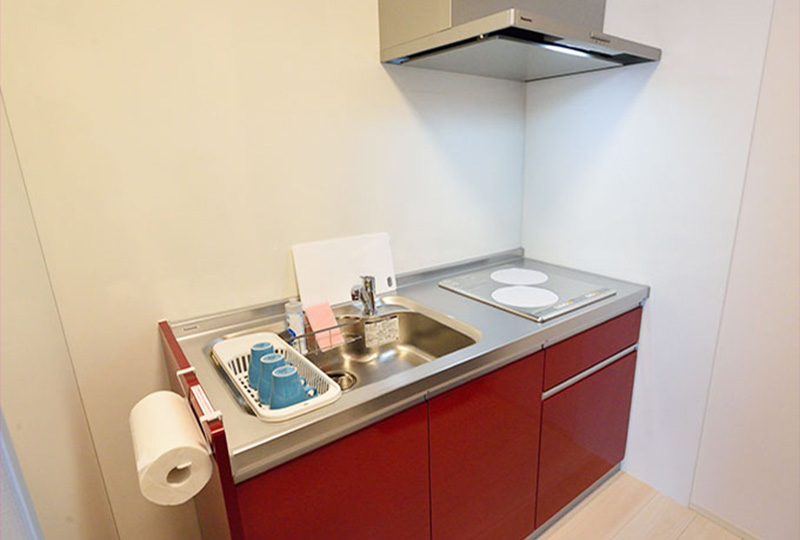 Shared kitchen
The area is fully equipped with cooking appliances, such as a rice cooker and microwave oven, as well as a large refrigerator. Use it for various occasions for a girls-only get together and parties, as well as simple supper making.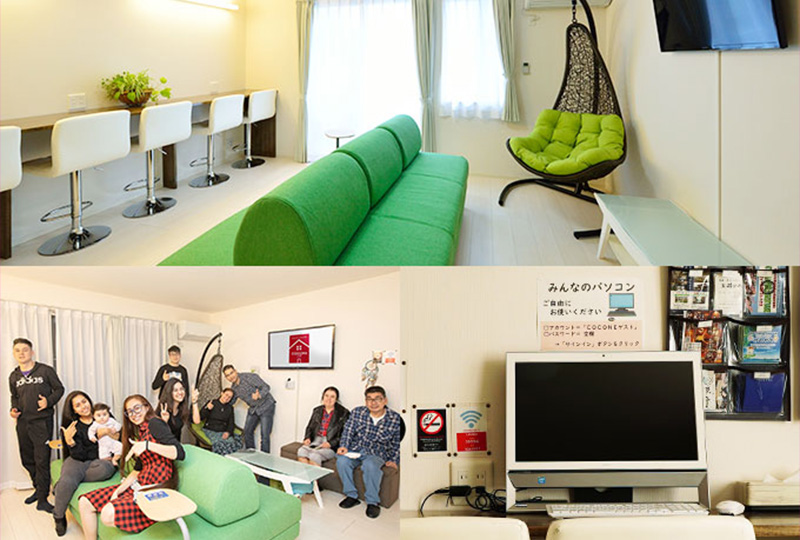 Lounge
A lounge for everybody staying with us to use. A variety of magazines and a free computer available for use. Relax with a cup of coffee or another drink.
Co-Ed Dormitory
A semi-capsule-type room that ensures your privacy.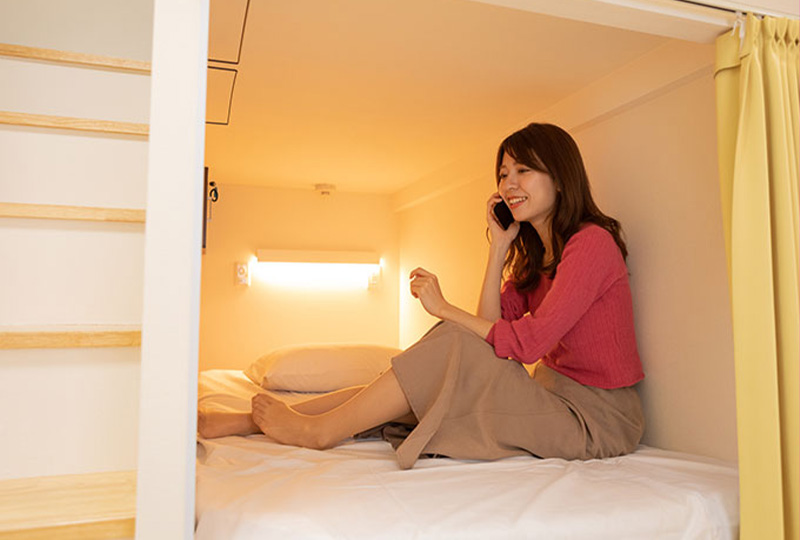 Women-Only Dormitory
A women-only dormitory so all women can stay overnight safe and sound.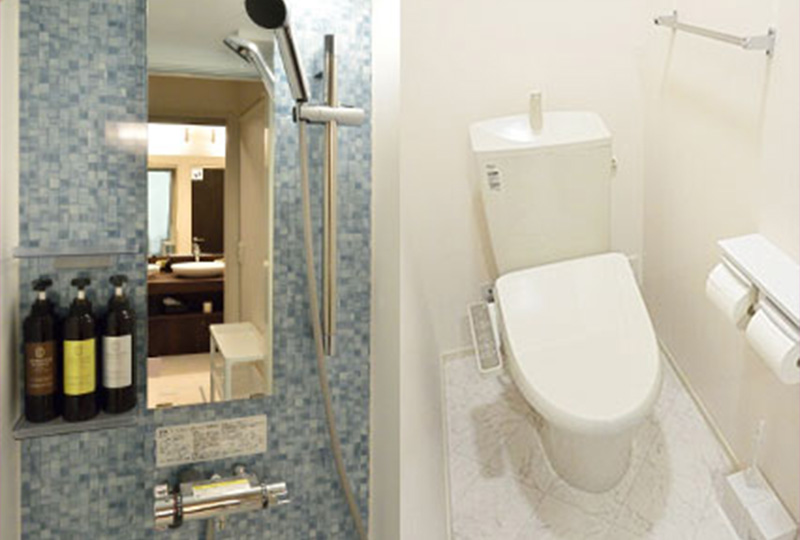 Shower and toilet
We have two bathroooms for each dormitory.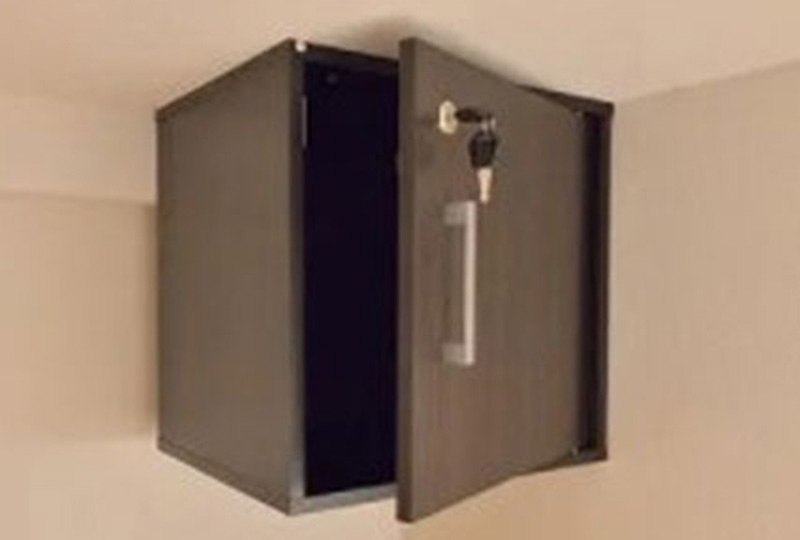 Safety box
A safety box is placed at the bedside to keep your valuable belongings.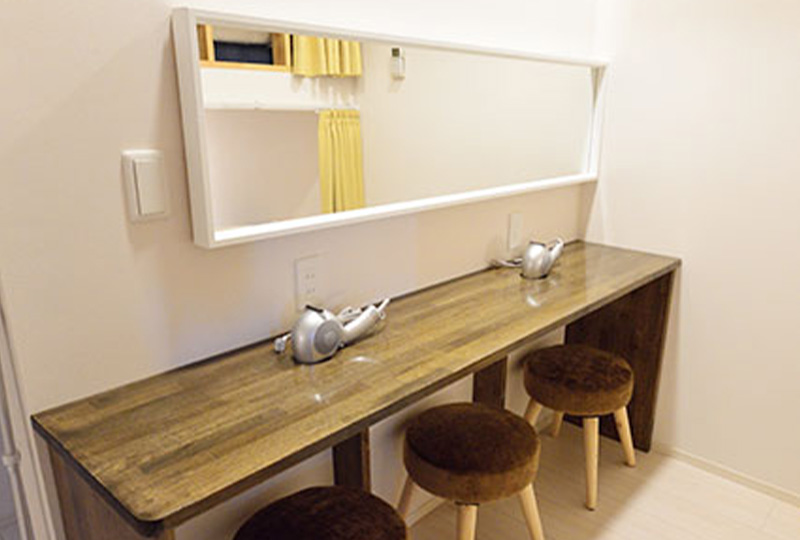 Dressing Table for Women
The dressing table is exclusively for women, so you can feel free to use it before bedtime or when you are getting ready to go.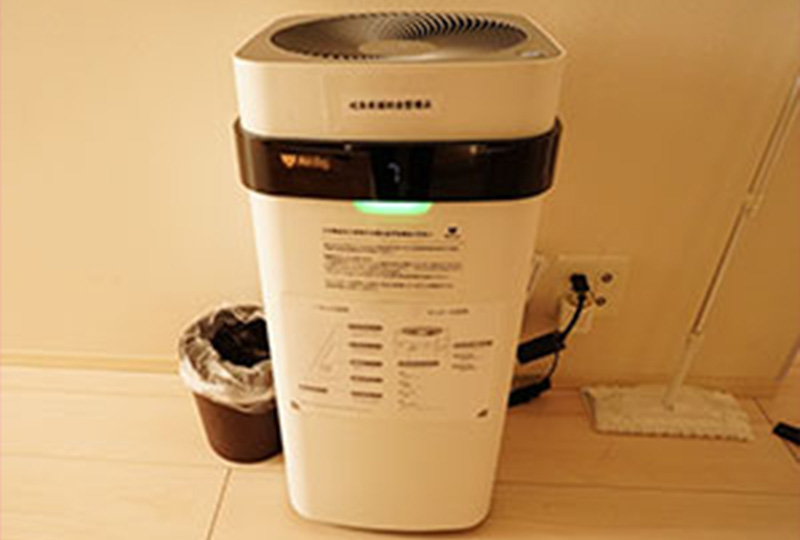 Air purifier equipped
Each dormitory is equipped with a high-performance air purifier. We also take strict measures against COVID-19, so you can rest assured, leave it up to us and enjoy your stay.
| | |
| --- | --- |
| Service | COCONE Store (a mini store) / Beverage vending machine / Coin-operated laundry machine / Parking / Corona Countermeasure Air Purifier / Free rental bicycles / Electric Kickboard / Rental umbrellas |
Information
Free Wi-Fi
in all areas

COCONE Store
(a mini store)

Ticket Plaza
Hashima Branch

Coin-operated
laundry machine

Safety box
(Dormitory)

Beverage
vending machine
Check in / Check out
Overnight guest --- Check in: 4:00 p.m. - 10:00 p.m. Check out: 10:00 a.m.
Day use guest --- Available from 11:00 a.m. to 5:00 p.m.
*Please be sure to contact us if you are going to be late for your check in.
Dormitory 10 beds x 2 rooms
Number of Rooms
2 Dormitory rooms (co-ed 10 beds / women-only 10 beds), 3 private rooms (4-5 persons per room)
Parking
12 vehicles, 300 yen per night (per vehicle) *First-come, first-served
Cancellation Policy
Cancellation fees shall be charged as follows:
5 days before check-in and after: 100% of the room charge
*Specific cancellation policies may be set for each plan or dates. Be sure to check the cancellation policy on the plan details page (Metro Booking).
Credit card
VISA / JCB / American Express / Diner's Club / Master Card
We accept various QR code payments
Sightseeing
Use our guesthouse as a base to visit various sightseeing spots in and around Gifu Hashima.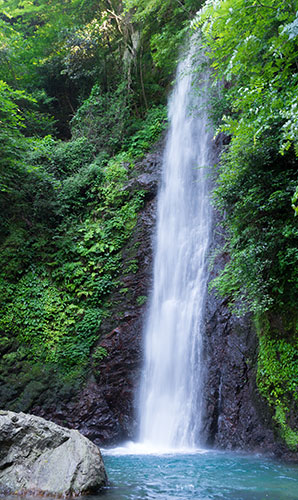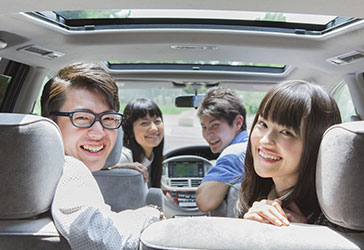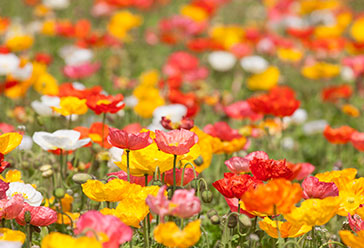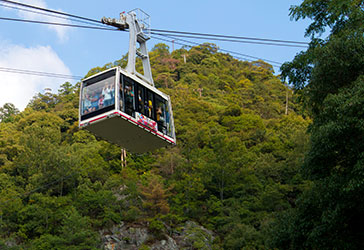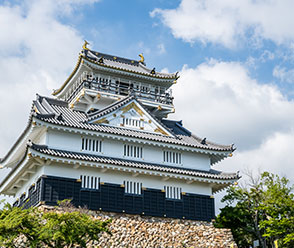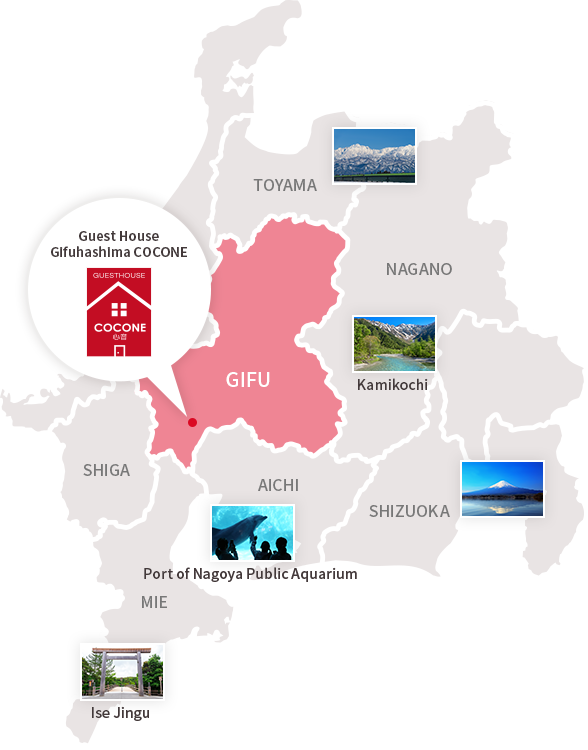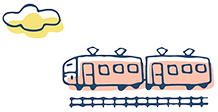 Access
10 minutes on a bullet train
from Nagoya Station
Address
6-1 Funabashi-cho Miyakita, Hashima-shi, Gifu
Transportation
Three minutes walk from Gifu-Hashima Station on Tokaido Shinkansen Line and Meitetsu Hashima Station.
Five minutes from Gifu Hashima Interchange toward Gifu Hashima Station.
Parking
Up to 12 vehicles can be accommodated. Guests may use the parking for a fee of 300 yen per vehicle per night (free entry and exit for overnight guests).


*Vans may park. Contact us for more details.

Convenient access for sightseeing

●By Shinkansen bullet train…

10 minutes to Nagoya
35 minutes to Kyoto
50 minutes to Osaka
110 minutes to Tokyo

●By train…

60 minutes to Chubu Centrair International Airport

●By car…

90 minutes to Gero
120 minutes to Takayama & Shirakawa Village
120 minutes to Ise
150 minutes to Kanazawa